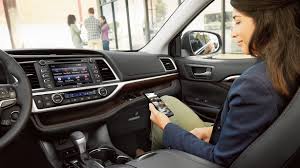 New technology in SUVs makes it possible to ride with greater comfort and safety than ever. Developments such as inexpensive touch-sensitive screens, high-resolution cameras, machine learning, and inexpensive Internet connectivity have converged, resulting in SUVs with technologies that didn't exist a few years ago or were far too expensive for most people to afford. These are our picks for the best new technology in SUVs.
Active Headrests
Available in:
Toyota 4Runner
Active headrests can help to protect your neck during a rear-end collision. The headrest automatically moves up and forward to limit the neck's range of motion and minimize whiplash.
Lane Departure Prevention
Available in:
 Toyota Land Cruiser  
Lane departure prevention uses sensors that monitor your vehicle's position relative to those of the lines on the road. If you stray too close to a line, the vehicle will react to bring you back to the center of the lane. Depending on the vehicle's implementation of this feature, it may play an audible warning, rumble the steering wheel or your steering.
Collision Avoidance System
Available in: Toyota Highlander, Toyota Land Cruiser, Toyota RAV4 




A collision avoidance system uses a combination of front-facing sensors and shape recognition to identify when a pedestrian or another vehicle is in your SUV's path. Your SUV may play a warning sound or move the brake pads closer to the discs to facilitate faster braking. If you do not begin braking, the SUV will apply the brakes for you to avoid a collision.
Parking and Lane Changing Assistance
Available in: Toyota 4Runner, Toyota Highlander, Toyota Land Cruiser, Toyota RAV4, 

 

An SUV often has a high ride height. The high seating position can make cars and other smaller items difficult to see when changing lanes or backing up. Many modern SUVs use cameras or sonar to monitor the areas you can't see. When you put the vehicle in reverse or signal your intent to change lanes, the vehicle will display a camera feed on the screen or warn you that an object is in your blind spot. Some SUVs even allow you to see your surroundings from above.
Adaptive Cruise Control
Available in: Toyota Highlander, Toyota Land Cruiser, Toyota RAV4, Toyota Sequoia 




Adaptive cruise control utilizes a sensor to scan the area in front of your vehicle. If you have cruise control enabled -- and another vehicle crosses your path -- adaptive cruise control automatically adjusts the speed of your vehicle to maintain a safe following distance.
Automatic Parking
An automatic parking system allows your SUV to maneuver into tight parking spaces for you. Automatic parking usually works for both parallel and perpendicular parking. To enable it, you press a button to indicate that you're looking for a place to park. When the car identifies an open parking spot, it plays an audible alert. You can then stop the SUV. When you shift into reverse and push the accelerator pedal, the SUV automatically steers itself.
Remote Safety Features
Available in: Toyota 4Runner, Toyota Land Cruiser 




Inexpensive wireless communication has made it possible for modern vehicles to include equipment allowing them to send and receive data via satellite and cellular signals. Toyota Safety Connect, for example, has the ability to broadcast an SOS signal if an accident occurs or the vehicle's airbags activate. The SOS signal includes the GPS coordinates of your vehicle, so emergency crews can find you quickly. Safety Connect can also assist authorities with locating your vehicle if it is stolen or call for roadside assistance if your vehicle breaks down.
Augmented Reality Instruction Manual
Available in:
Toyota RAV4 
The feature set of the typical automobile has grown greatly over the years. If you don't have time to read the instruction manual, you may not get the most from your SUV because you might avoid using the features that you don't understand. An augmented reality instruction manual replaces portions of a paper manual by allowing your smartphone to explain aspects of your vehicle to you. To use an augmented reality manual, simply launch the app and point your smartphone's camera at something that you don't understand. To learn more about a control or feature, tap it on your smartphone's screen. At the time of writing, the RAV4 is the only Toyota vehicle with an augmented reality instruction manual and it is only in French. However, the augmented reality instruction manual is a recent development that is certain to become more popular in the near future.