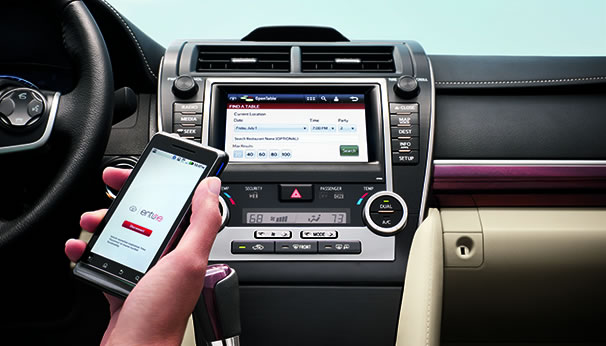 The complimentary technology for your vehicle is what Toyota calls 'Entune.' This system offers outstanding features such as hands-free calling, streamlined address input and much much more.
Integrated Navigation
Entune offers a great navigation system that is easy to operate for everyone. Equipped with real-time traffic updates, Entune may suggest a different route to help arrive at your destination safely by avoiding heavily trafficked arears. Your punctuality is important and Entune knows that. To help you get to your destination as quickly as possible, it can also let you know when the smartest time to start your drive would be.
With streamlined address input, you can enter your destination without putting your Toyota in park or taking your eyes off the road. All that is required is the push of a button and speaking the desired address, or selecting a previously visited one.
Bluetooth Features
Many of the great components to Entune are set up through Bluetooth. By pairing your phone, changing your music and making hands-free calls is a breeze. Another new feature called Siri Eyes Free allows you to chat with Siri throughout your car, without ever picking up your iPhone.
Entune 3.0
The Entune update, Entune 3.0, is offered in newer Toyota models such as the 2018 Camry. It still contains all the great features of the previous Entune, with a few outstanding additions such as on-board wi-fi and safety connect.
Entune was made to help keep drivers focused on the road and distraction free with a simple and easily accessible system. At Young Toyota, they want your car buying experience to be easy and enjoyable, not stressful and over complicated. Located in Cache Valley, stop by to learn more about Entune and Young Toyota.
THINK YOUNG. DRIVE YOUNG.